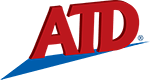 ATD-5217
Air Operated High-Pressure Grease Pump for 120 lbs. Drum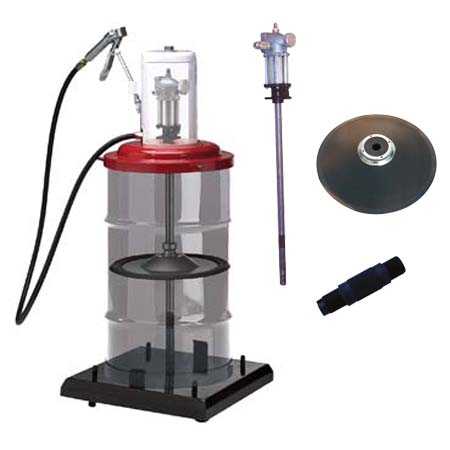 50:1 heavy-duty double acting pump provides uniform high-pressure
Upgraded pump seals provide 10-12 times longer life
Will dispense 40 oz. of NLGI 0-2 grease per min. @ 150 psi
Assures positive prime at lowest temperature
All ATD Grease Pumps are factory tested for quality & reliability
Includes:
Roll-a-round base
Follower plate (ATD-5325)
Air motor cover
Lincoln-style air coupler
Control valve (ATD-5218)
Steel drum cover with screw downs
6 ft. high-pressure hose and pump muffler
Grease strainer screen (ATD-5356)
Barrel not included
Shipping Weight: 46 lbs.
Available Accessories & Replacement Parts:
ATD-5217-1 - 50:1 Double Acting Grease Replacement Pump for 120 lbs. Drum Systems
Includes rapid disconnect air coupler, air nipple and muffler (fits all makes and models)
Downtube Diameter: 1"
Output: 80 cu.in/min. of NLGI #2 grease at 100 psi @ 70˚F ambient temperature (.35 cu. in.-cycle)
Air Inlet: 1/8" NPT(f)
Lube Outlet: 1/4" NPT(f)
Shipping Weight: 17 lbs.
ATD-5324 - Piston Assembly
Piston assembly for lower down tube on all air operated grease pumps
ATD-5325-2 - Rubber Follower Plate 120 lbs. Drum
Molded Rubber for 120 lbs. drum pump
Diameter opening for down tube 1"
ATD-5320 - Grease Pump Repair Kit
Simple repair kit for grease pumps
ATD-5322 - Air Motor Repair Kit
Complete repair kit for air motors
ATD-5323 - Downtube Repair Kit
Complete repair kit for downtubes
Available Downloads:
Owners Manual
Troubleshooting Guide
Pump Diagnostic Sheet